Fashion
Crème de la crème

Isabela
Rosselini's 13-year reign as Lancôme's face has ended. To replace
her the


cosmetic giant has chosen a Brazilian who has been living in Paris since
age 7. Cristiana Reali, 31, got the contract competing with such
well-known beauties as actress Juliette Binoche. "Decisive
in her choice were besides her beauty and freshness, the intensity and
the passion she has forged on the stage," explained Lancôme's
communications' director Jérôme Bartau. Cristiana,
the daughter of Elpídio Reali Jr, a correspondent for the
daily newspaper O Estado de São Paulo, is a promising theater
actress who has some name recognition in France for playing the classics
like Molière and Racine. In her new career as a model,
Reali has been clicked in Paris, London and Cuba. The new Lancôme
campaign should start in July.
TV
Naked does it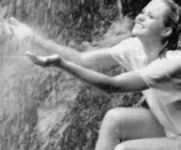 TV novela
(soap opera) programmers have a sure-shot solution for sagging
audiences: to bring in breasts and other less-exposed female anatomy parts.
But this time SBT (Sistema Brasileiro de Televisão – Brazilian TV
System) has outdone itself by deciding to include the savior scenes even
before its new novela Razão de Viver (Reason for Living)
has started. News photographers flocked to the waterfall where Cláudia
Liz, the novela's star, was supposed to tape her nude scenes.
Outraged with the barrage, the model who has already shown all of her stuff
to Playboy readers, protested: "I get the tubes to pose nude
and it's not now that you are going to get it for free." That said,
she took it all off but her panties and T-shirt and marched to the waterfall.
Rubber-a-plenty
Condom makers' dream of getting a camisinha (little shirt) in
each pocket and each purse is getting closer to fruition in São
Paulo. Thanks to a stable currency, the real, condom manufacturers are
able to place the product in vending machines in strategic places like
nightclubs, newspaper stands and subway and bus stations. The company Blausiegel
alone is investing $2 million in more than 2,000 machines and believes
that soon 7% of its earnings will come from the rubber dispensers.
Collor Web
From his self-imposed exile in Miami, former President Fernando Collor
de Mello has been feverishly weaving pages on the Internet. Those curious
enough to visit him at http://www.visionpoint.com/collor will find his
biography, articles and speeches from the times he was the country's number
one honcho. The down-to-earth pages are presented in French, Spanish, English
and Portuguese. Collor criticizes President Fernando Henrique Cardoso
and gives hints of his presidential aspirations when he speaks of his
wish of retaking the "abruptly interrupted" march. He blames
his impeachment on "powerful groups" defending "their limited
interests". His E-mail couldn't be easier to remember: collor@america.com
Emigration
And the number is
Until now Brazilian emigration figures were uneducated guesses. But
Itamaraty's (Foreign Ministry) first census ever on Brazilians overseas
is out with the revelation: 1.5 million Brazilians have left their country
for the first and third world. From those, the majority (610,130) went
to the US. Tiny Paraguay comes in second on the list of preferences (325,000)
followed by Japan (170,000) and Europe (126,828) where the biggest colony
is in Germany (23.700). Almost one third of those who chose the United
States went to New York (230,000). There are still 150,000 Brazilians in
Boston, 130,000 in Miami, 47,000 in Washington, 15,000 in Houston, 15,000
in San Francisco, 13,000 in Los Angeles and 10,000 in Chicago. As large
as it is, the exodus phenomenon represents less than 1% of Brazil's 160
million souls.
Slammer bangers
Brazilian prisoners are mad as hell and they are not taking it anymore.
According to the last prison census's figures, it takes ten days between
a jail rebellion and the next one, and there is an average of two jailbirds
who break out of prison every day. Every year 1 million crimes are committed
in Brazil. There are 511 prisons to receive the 129,169 convicted criminals
even though there is enough room only for half of them. And there are 275,000
warrants of arrest out there that haven't been executed. Just for them
the country would need 550 new prisons. "Our prison system is bankrupt,"
says Assis Toledo, minister of the STJ (Superior Tribunal of Justice).
Worse in the USA
Is there any place in the world with more crime than Rio? Yes, five
US cities, for example. According to Paris's National Institute for Demographic
Studies director Jean Claude Chesnais, your chances to be killed
are much greater in the United States. He bases his conclusions on research
analyzing the 1993 and 1994 number of murders for each 100,000 residents.
In Rio, during that period, there were 60 murders for 100,000, while this
number was 86.4 in New Orleans, 77.9 in Richmond (Virginia), 69 in Washington
DC, 67.9 in Gary (Indiana) and 64.1 in Saint Louis (Missouri).
Like on the tube
In Brazil, life is imitating novelas (soap operas) again. Going
to a teen party these days might seem like a trip to Gypsy land. Getting
their cue from Explode Coração (Explode, My Heart),
a soap that extols the Gypsy culture, adolescents all over the country
have been celebrating special occasions wearing colorful garbs, getting
crystal balls and Gypsy cards, hiring Gypsy dancers and playing full blast
the novela's soundtrack.
Must read
The vestibular, that Brazilian all-encopassing marathon-like
test that makes or breaks those interested in getting into college, will
just start November 24, but the Fundação Universitária
para o Vestibular has already released the list of books candidates will
have to read for Vestibular '97. The 10-book list has been enriched with
three new works: Mário de Andrade's Contos Novos,
Gil Vicente' Auto da Barca do Inferno, João Cabral
de Melo Neto's Morte e Vida Severina. Carried from last year's
list are Memórias de um Sargento de Milícias (Manoel
Antônio de Almeida), Lira dos Vinte Anos (Álvares
de Azevedo), A Cidade e as Serras (Eça de Queiroz),
Dom Casmurro (Machado de Assis), São Bernardo (Graciliano
Ramos), Campo Geral (from "Manuelzão e Miguilim"
by Guimarães Rosa e "Memorial do Convento" (José
Saramago). On February 3, 1997, candidates will know if the new list
of literature has helped. That's the day the final results will be released.
Trash no more
In a pioneer undertaking in Brazil, Brasília has started to issue
tickets to those who dirty the city's streets. Throwing paper or fruit
peels will set you back $20. This is the lowest fine. The sum jumps to
$50,000 for those who toss garbage on fountainheads. Recidivists will have
their fines doubled. For now there will only be 84 inspectors enforcing
the law. Brasília's Department of Environment, however, soon intends
to also use the military police and traffic cops to dish out tickets.
Lethal treatment
According to the US Centers for Disease Control (CDC) the recent incident
in Caruaru, state of Pernambuco, in which 43 people died after going through
hemodialysis, was the worst tragedy of its kind in the world. Three CDC's
scientists went to Recife where 60 other patients with liver intoxication
had been sent with little chance to survive. The intoxication seems to
have been caused by a toxin called Microsistine-LR or by heavy metals in
the water of Instituto de Nefrologia e Urologia in which the accident occurred.
The only positive result from the tragedy was the Health ministry's belated
decision to supervise the 400 clinics which do hemodialysis in the country.
Ironically enough, the clinic in which the mishap occurred was being paid
$100,000 a month by the federal government to minister that treatment to
147 patients from Pernambuco's backlands.
Death bound
Condemned for killing two prostitutes and a businessman in Florida in
1993, Brazilian Rodrigo Viana, 22, has been sentenced to the electric
chair. The decision was made in April by a jury.
Banana rescuer
Cosmopolites sordidus, a worm that damages Brazilian banana trees
should soon cease to be a menace to banana farmers. Scientists say it can
be widely and economically controlled by the fungus Beauveria bassiana
applied by a method developed at the State University of Santa Catarina.
The fungus is smeared in shallow incisions on the tree trunk and attracts
the grub which is killed by the toxin secreted by Beauveria. Humans
are not affected by the fungus. The method is now being extensively tested
in the Guaraqueçaba Environmental Protection Area in Paraná
State.
Lowering the death toll
The heavily traveled trunk highway between São Paulo, SP and
Florianópolis, Santa Catarina is expected to soon lose its sobriquet
the Killing Road. Development loans from international financial agencies
for $450 million will provide the main truck-car-intercity bus highway
with many improvements. It is to be widened, gain separate traffic lanes
in critical areas, by-pass Curitiba, capital of Paraná State, and
hopefully reduce the slaughter.
Teaching to fish
Thousands of favelados residing in some 60 Rio de Janeiro slums
including many precariously perched on the sides of morros (hills)
are expected to benefit from extensive work including sanitation, drainage,
garbage collection, street paving and lighting, and child care services
conducted with the help of a $180 million international loan. Approximately
70 per cent of the workers hired for the construction jobs are hill dwellers
themselves and should benefit from both the better wages paid and from
learning how to maintain much of their own communities.
Slang
Sea saw
The mangue music trend has given voice to Recife's fishermen.
Chico Science, the movement's leader, has used their patois in his
lyrics with a little adaptation. Here's a taste of the new language:
Aratu (homeless crab) stupid
Caritó (crab's box) van for prisoners
Cevar (to raise crabs) to educate
Corda (cord) gang
Da lama (from the mud) cool
Espumar (to foam) to be hungry
Guajá (high sea's crab) yuppie
Jogar isca (to throw the bait) to flirt
Maloca (shack) home
Maré cheia (high tide) good life
Maré seca (low (dry) tide) penniless
Sair de andada to go aimlessly
Virar pirão (become bouillon) act stupidly
Xié (little crab) street kid