Protest
Breasting injustice
The
big winner of the 29th Festival de Cinema de Brasília, 1996 edition,
was Paulo Caldas's O Baile Perfumado (Fragrant Ball). The
film won four prizes including best film and best first-time director.
Also rewarded were all Brazilian Peeping Toms who were offered a treat
after actress Cristiane Tricerri, 34, performed a protest striptease
in front of Palácio do Planalto, the presidential residence. Tricerri
wanted to show her disdain for the jury, was unable to select, according
to her, the really best movie Olhos de Vampa (Vamp's Eyes). It goes
without saying that Cristiane starred in the passed up film. To the oglers'
disappointment the actress only exposed her breasts to the Capital air,
keeping her clothes from the waist down as required by protocol.
Protest
Breasting injustice
Cristiane Tricerri exposing herself.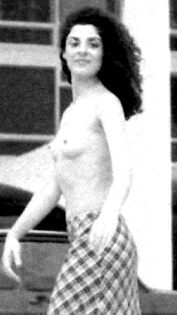 The
big winner of the 29th Festival de Cinema de Brasília, 1996 edition,
was Paulo Caldas's O Baile Perfumado (Fragrant Ball). The
film won four prizes including best film and best first-time director.
Also rewarded were all Brazilian Peeping Toms who were offered a treat
after actress Cristiane Tricerri, 34, performed a protest striptease
in front of Palácio do Planalto, the presidential residence. Tricerri
wanted to show her disdain for the jury, was unable to select, according
to her, the really best movie Olhos de Vampa (Vamp's Eyes). It goes
without saying that Cristiane starred in the passed up film. To the oglers'
disappointment the actress only exposed her breasts to the Capital air,
keeping her clothes from the waist down as required by protocol.
---
Politics
Losers weepers
According to the TSE (Electoral Superior Court), PMDB (Party of the
Brazilian Democratic Movement) made 1,287 mayors in the Brazilian latest
elections. With this Brazil's largest political party kept its big lead
with more than double the number of mayors elected by runner-up PPB (Brazilian
Progressive Party) which elected 624 mayors. The run-off election was held
only in cities where the October 3 election didn't guarantee 50 percent
of the votes to any of the mayoral candidates. The results don't include
156 smaller towns which six days after the November 15 run-off election
were still counting ballots.
It wasn't good news for PSB (Brazilian Socialist Party), President Fernando
Henrique Cardoso's party. They lost three state capital in which they
had the mayor. These elections could make it harder for Cardoso to realize
his dream of being reelected. To stay in the Palácio do Planalto,
however, he needs Congress to adopt a constitutional amendment, as the
current charter mandates a single non-renewable four-year term. Newly elected
local political bosses would have a say in the decision.
There were no big surprises in the run-off, with voters for the most
part confirming the favorites of the first round. As expected, Celso
Roberto Pitta do Nascimento, a former finance secretary, got 57 percent
of the votes becoming the first elected black mayor of São Paulo,
Brazil's biggest and most prosperous city, with 12 million people. Despite
the fact that roughly 50 percent of Brazilians are black or of mixed race,
there are very few prominent dark skinned politicians in Brazil. Celso
Pitta's victory is a boom for his sponsor, the current São Paulo's
mayor Paulo Salim Maluf who intends to run for President two years
from now.
In Rio, as in São Paulo, it was also a virtual unknown who got
elected for Mayor in Rio. In both cases the winner was the current mayor's
protégé. State legislator Sérgio Cabral was
defeated by Luiz Paulo Conde, who is Rio's Urban Planning Secretary.
Conde was handpicked by mayor César Maia, who despite having
an image of eccentricity was also very popular for massive building projects
undertaken. Women also had good news. Three of them got elected mayors
in three state capitals.
---
Tragedy
Executive death
One week after its worst aerial accident São Paulo city heard
from Cenipa (Center of Investigation and Prevention of Aeronautic Accidents)
concluded that the tragedy that took 98 lives was caused by a structural
defect in the Fokker 100, the plane involved. The aircraft had its right
turbine's thrust reverser (the device that helps planes stop when they
land) deployed automatically when the airplane was still racing down the
runway. Unlike other aircraft as the ones manufactured by Boeing, the Fokker
has no alarm system to warn of such an occurrence.
Flight 402 was a TAM's shuttle service between Rio and São Paulo.
All 96 passengers and crew members aboard were killed together with two
other people on the ground. The October 31 crash occurred in a pleasant
street of Jabaquara, 25 seconds after the plane took off from Congonhas
airport. Congonhas, located five miles from downtown São Paulo,
is Latin America's busiest airport in take off and landing and Brazil's
third in volume of passengers, just behind Rio's Galeão and São
Paulo's Cumbica.
The early-morning flight had aboard 28 high ranking executives of domestic
and multinational corporations. Among the dead there were eight executives
of Unibanco. Banco Real, Banco Cidade. Citibank also lost directors. The
crash was immediately reflected in the São Paulo's stock market.
The very successful TAM, that had seen its stock prices soar in the last
few years, suffered a drop of 28 percent in one trading day.
Pilot José Antônio Moreno, at 35 one of TAM's most
seasoned professionals, had 18 years' experience and over 3,000 hours flying
the Fokker. In the first hours after the accident he was made a hero. Globo
Repórter, a sensationalistic program of Globo TV disclosed a
conversation that Moreno was supposed to have with the tower. In the dialogue
reproduced by Globo newspaper and weekly newsmagazine Veja,
the pilot says, "I have an emergency I'm going back I'm clearing the
school." The plane fell very close to Dr. Ângelo Mendes de Almeida
elementary school where 800 children were having class. Later it was learned
that everything happened too fast and the pilot didn't exchange a single
word with the tower.
In the wreckage, a 10-lb cocaine package was found. TAM quickly denied
that the drug had been in the plane, and suggested that it belong in a
house hit by the Fokker. The São Paulo police would soon confirm,
however, that the package was been carried by a passenger, identified as
Mauro Rodrigues Matos, well-known drug trafficker. At the Rio's
airport, local police were waiting for him with a warrant.
---
Craze
À la Lorena
"Help, call an ambulance. This woman is crazy. She cut my dick."
It was 5 in the morning in Vitória (capital of Espírito Santo)
when the desperate call was placed to luxurious Motel Status's reception
desk by guest João Carlos Mattos de Faria, 27. He had come
to the motel at 10 PM accompanied by J.G.Gomes Savicth., a 17 year
old female. Now, J.G. had cut Faria's penis with a kitchen knife. The underage
blonde, tall and gorgeous, had been Faria's girlfriend for seven months.
The young man, owner of an imported-food shop, had met the girl at his
business place, but since September he ha been trying to end the relationship
and hinted that he was in love with another woman. When she showed up at
Faria's store on the night of November 2, she said all she wanted was a
last night of love. In the offices of the Juvenile Department where she
was taken by police, J.G. confided to a social worker: "The night
was marvelous as always." Doctors who examined her said she showed
no sign of insanity.
João Carlos was taken by plane to São Paulo's Hospital
Nove de Julho where he had his penis reattached. The member had been placed
by a motel waiter in a bucket with ice and flown to São Paulo with
the youngster. Two weeks after the successful surgery, Faria had a full
erection (including the part severed), but his ability to function as a
man was still in doubt.
After years of spousal abuse Venezuelan-born immigrant Lorena Bobbitt
became an instant world celebrity in June 1994 after she meted the
same treatment to her American husband John Wayne Bobbitt. She
seems to be inspiring some jealous Brazilian women to replicate her get-even
act. Two weeks after the Vitória incident, another woman decided
to cut her husband's phallus after learning of his infidelity. Raquel
Nair Lúcio, 33, confessed she was inspired by news reports when
she decided to cut off the penis of Luís Carlos Ferraz, 61.
They live in Tietê, a town 90 miles west of São Paulo. Raquel
herself called the police who arrested her. Ferraz also had his organ surgically
reattached.
And there was Eva Maria Pires, 62, who after a fight with her
farmer husband Geraldo Abílio Fagundes, 57, cut off his left
testicle. Eva is in jail. Despite the pain and the humiliation Fagundes
doesn't seem to hold a grudge. "She has a temper," Fagundes said.
"But I don't want her to rot in jail."
---
Internet
Big-time off-line
Something went very wrong with Embratel, the much reviled Brazilian
communication's monopoly, in its way to give Brazilian Internet surfers
an easier time on line. While the country went into a three-day break to
vote and celebrate November 15, the Republic's Proclamation holiday, Embratel's
engineers started what should be a revamping of the system's backbone and
promised to those complaining of blackouts "an immediate improvement"
as soon as the job was finished. It never was. What went wrong? After six
days of tinkering with the main Internet trunk in the country, leaving
at least 40 percent of Brazil isolated from the Internet for four days,
the state company went back to square one, undoing all the changes. A terse
communiqué explained: "We opted to go back to the previous
situation."
Those who are against the monopoly — and they seem to be the majority
— are screaming even louder now that the service be privatized. Users
grew even more incensed because during the whole blackout the company continued
to say that everything was going as planned and it was under control. Some
users were even advised to check their own modem, the device that makes
computer to talk over the phone. One Embratel user unloaded his anger,
"Why doesn't Embratel offer a course to its technicians and engineers
instead of letting them practice live in the Net, abusing the patience
of every Internet surfer?"
---
Indians
The AIDS scare
In an effort to block the spread of AIDS and STD (sexually transmitted
diseases) among the Indian population in Brazil, the Brazilian government
will soon start a program of handling condoms to the natives. Since 1989,
when the first case of AIDS was diagnosed in a tribe in Santa Catarina,
in the South, there have been 13 known cases of HIV-infected Indians. All
but two of them have died. According to the government there are 325,000
Indians in the country with 165,000 of them living in Northern Brazil.
The condom distribution program, set to start in the first quarter of
1997 will initially involve only aculturated tribes and those Indians who
have more contact with the white man, including the Ianomami, the Bororo,
the Xavante, the Guajajara, the Guarani and the Apinajé Indians.
On the defensive, Pedro Chequer, the program coordinator explained,
"I know condoms are not a part of the Indian culture. But we can't
stand here watching while Indians die of AIDS."
---
Fill'er up
In Campinas (São Paulo State), residents don't need cash, check
or credit and debit cards anymore in order to purchase a series of products.
They are taking part in a pioneer pilot program called Visa Cash. It's
a card similar to a credit card, with a credit up to $600 and it can be
"recharged" in the branches of the 14 participating banks. In
this first phase of the program, which started December 2, 50,000 intelligent
cards will be available. The new money is already being accepted by at
least 500 merchants in the city.
---
Dreaming of
the Games
During its visit to Rio to analyze the city's chances to hold the 2004
Olympic Games, the International Olympic Committee's delegation decided
to visit a favela (shanty town), an event that wasn't in the official
program. Caught by surprise, Ronaldo Cezar Coelho, President of
the Committee Rio 2004, chose Parque Royal favela in Ilha do Governador,
a neighborhood close to Fundão island, the place where the Olympic
stadium and village should be built. Parque Royal, which has newly-built
shops and even a sports plaza with a soccer field, is part of the Favela-Bairro
project, a re-urbanization plan created by city hall.
The IOC envoys, who also met President Fernando Henrique Cardoso,
talked for two hours with Coelho and Carlos Langoni, former
president of the Central Bank, showing a lot of interest in the economy
and poverty in Brazil. They were particularly worried about a possible
return to unbridled inflation. "I want to meet the person responsible
for Rio's finances," said Thomas Bach, the chairman of the
delegation, when he was told that city hall had $900 million available
in its coffers. During a visit to Maracanã soccer stadium, Bach
and his colleagues played some soccer and at the end posed for a picture
as if they were a soccer team. The Rio 2004 Internet address is http://athos.labma.ufrj.br/rio2004.html
---
Blacks needn't apply
At the end even US Ambassador Melvyn Levitsky and American human
rights activist Rev. Jesse Jackson, who was visiting Brazil, intervened
so 6-year-old Carlos Rossi, a dark-skinned student, would get his
visa to visit the US together with his classmates. Rossi needed the visa
in order to participate in an exchange program in Florida. The boy's father
had applied three times for the visa stamp that other Rossi's colleagues
— all white — had received without any bigger effort. Accused of discrimination
Rio's consulate defended itself saying the boy's parents hadn't presented
the right documentation and they feared the boy would stay in the US after
the program ended. After Luís Carlos Rossi, the boy's father,
went public with his complaint, the director of Dice English Course, Ricardo
de Oliveira Lima, revealed that black children in his school
always have problems getting a US visa.
---
There goes
the good doctor
He was considered a citizen above any suspicion. As a doctor served
as health minister under three presidents. He was the man of whom President
Fernando Henrique Cardoso said, "I would like to have a cabinet
of Jatenes". All of this, however, wasn't enough to ensure Health
Minister Adib Jatene's post. He was, as they say in Brazil these
days for politicians who are dumped, fritado. And apparently he
was fried in order to help Cardoso in his efforts to gain a constitutional
amendment allowing the President to launch his candidacy for a second term.
Jatene's honeymoon with the country was very short. Soon after assuming
the ministry in 1995 he started building an image of a do-nothing and a
crybaby always complaining about the lack of money. Thanks to his friendship
with the President, the heart specialist was able to have Congress create
the CPMF, Provisional Contribution on Financial Movement, a big name to
say that everybody writing a check had to pay a .25 percent fee per check
to help the health ministry.
The new levy was approved, but Jatene never touched the money. After
several threats of leaving the government he delivered his letter of resignation
November 5. Supreme humiliation, friend Fernando Henrique made Jatene wait
for one hour and a half in the waiting room before receiving him. In a
sentimental farewell, the minister and his aides cried openly. Apparently
relieved, Jatene vented his frustration: "I am no crybaby," he
said. "I am no beggar."
---
Carnaval
When February comes
Do you think that just watching Rio's Carnaval pageant is no longer
enough? Are you interested in parading in one of those luxurious outfits
and listening to the maddening crowd screaming your name? No sweat. Rio's
Samba schools have just announced that now is the time to apply for such
an opportunity. Do it quickly, though. The best costumes and places are
going fast. At Mangueira, the most traditional of all Escolas de Samba,
a costume costs between $250 and $400.
After paying for it all you have to do is to participate in a few rehearsals
in January. Outside people have been the norm nowadays. From the 5,000
plus who march for Mangueira only 1,500 belong to the community. The rest
are outsiders. Salgueiro, another heavigweight, will take to the avenue
4,500 participants, of whom only 1,000 actually come from the favelas
(shanty towns). Close to 2,000 are Paulistas (from São
Paulo) who pay for the privilege of parading with the Escola de Samba.
In Salvador (Bahia), mortalhas, the costumes that guarantee the
reveler a secure cordoned-off place in the streets to jump at Carnaval
during three days are also on sale. A Bloco do Camaleão mortalha
costs $530 and the group will have the band Chiclete com Banana as
their main attraction. Bloco do Crocodilo is charging $360 for theirs
and singer Daniela Mercury will be livening their party. The most
popular of the blocos, the Traz a Massa (Bring the Crowd)
charges $150 for its mortalha. They will be presenting the band
Gera Samba, the greatest sensation in Bahia these days.
If you still only want to watch the Rio's Escolas de Samba at the Sambódromo,
you better order your tickets ASAP: they are already on sale. Prices have
been cut 30 percent in comparison to last year. On the bleachers, prices
vary from $5 to $150 depending on how close to the action you want to be.
Boxes and loges can set you back from $1,450 to $31,000. There will be
close to 60,000 tickets available for each one of the two days, but less
than half of them are in the so-called popular sectors.
---
Looking for the chaff
Their official name is Exame Nacional de Curso (Course's National Examination),
but it has been baptized as Provão (The Big Exam). The government-mandated
aptitude test for those leaving college was used for the first time in
November under protest from students who threatened to boycott it and schools
who considered it unnecessary, superficial and even harmful. Created by
the Ministry of Education the examination, according to their own creators,
doesn't intend to measure the student's abilities, but verify if the school
in which he studied gave him a minimum level of proficiency. In a first
phase the test was taken only by 55,000 students of Law, Administration
and Civil Engineering courses. Brazil has 851 colleges, being 633 private
and 218 public. There is more than a little suspicion that some of these
schools are mere diploma mill where learning is an oxymoron.
---
Street talk
In the many tribos (tribes) of São Paulo everyone seems
to have its own patois. Surfers and skaters use a lot of English terms,
clubbers apparently invent new words every day and even office boys have
their own secret communication code. Just a sample:
Clubbers:
Aqüendar: to pay attention
Bagaceira: (lit. grape or sugarcane bagasse) slob
Dramático: cool, but it can also mean trash. Used to praise
or to pan.
Dzarm: uncool
Milho: (corn) something good
Office-boys:
Área: to get out
Ô véio: (hi, old-timer) a greeting
Rapi10: in a hurry
Busão: bus
Surfers:
Crowdeado: crowded
Dropar: to go down
Merrequeiro: fraidy cat
Prego: (nail) good-for-nothing
Skaters:
Aazzzaaarr: (hard luck) use to start or finish a sentence. It means
too good and it means too bad.
Boca: (mouth) bad
Esquema: (scheme) nice
Tipo: (type) conceited
---
Music
Hardcore art
Racy liner notes.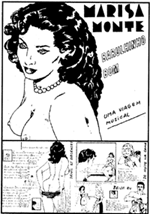 With
close to 2 million records sold after only three releases Marisa Monte
is the hottest Brazilian singer these days. Just on time for Christmas
she is now releasing Barulhinho Bom (Nice Little Noise), a double
CD album, one containing live performances during her world tour and the
other recorded in a studio. Barulhinho Bom has critical acclaim
and popular success written all over it. Why did then Monte decide to add
a little spice and controversy to release number four including pornographic
artwork on the cover and in the leaflet accompanying the CD?
They are crude and graphic scenes drawn by Carlos Zéfiro in
banned booklets that were the delight of many boys and adult men before
the advent of porno videos and slick imported hardcore magazines.
Nobody knew who Zéfiro was until recently when the public servant
Alcides Caminha stepped out in the open and confessed to be the
author of the blue saga. Marisa Monte is certainly of the opinion that
sex is Brazil's favorite sport. "These drawings represent Brazilian
collective unconscious," she not-sheepishly explained.