Behavior
All Naked
Candidate Fagotti went naked on TV


Getting naked in Brazil has become a fashionable statement for men too.
In the last few weeks a government official, a candidate to city council,
soap opera actors and group of Blacks all exposed themselves in the buff
to the cameras. Júlio Geiger, president of Funai (National
Foundation for the Indian) decided to undress and join his naked hosts
when participating in a Kuarup, an Indian ritual to celebrate the dead.
Justice Minister Nélson Jobim, who also jumped in the river,
guarantees that he kept his trunks. Julian Fagotti, candidate
for a seat at the Curitiba (state of Paraná) City Council, showed
his jewels during his free time on TV in a last and desperate effort to
boost his electoral chances. It earned him at least national attention.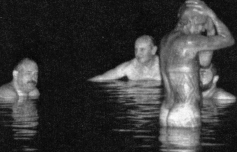 For actors Edson Branco and Gonçalo Diniz, unrobing
in front of the cameras is going to be like second nature when they finish
their participation in Xica da Silva, a period soap opera being
aired by Manchete TV. As for the four black students from USP (University
of São Paulo). their dropping of the pants was politically motivated.
They are defending affirmative action and want the establishment of quotas
to guarantee that more Blacks have access to higher education.
---
Theater
Suckling star
Greek playwright Euripedes, who lived between 480 and 400 BC,
might be considered a modern nowadays due to the psychological insights
of his tragedies, but it's doubtful he would approve of the way his Bacchants
is being presented by iconoclast Brazilian director José
Celso Martinez Corrêa in a tour de force that lasts five whole
hours in the Rio's Teatro Armazém. The play became a must-see when
recently composer-singer Caetano Veloso, who was watching the show
with his wife actress Paula Lavigne, was dragged to the stage, undressed
and supposedly forced to suck from the exposed breasts of actress Patrícia
Winceski, 25. It was all part of a scene in which a beast is fed. For
Winceski, who wants to be a movie star, it was instant fame. "We took
the good and served him to the public. At the beginning, Caetano was timid,"
she said, "but after a little while, he really sucked." Patrícia,
who doesn't use soap or deodorant, also popularized the expression estraçalhar
(tear to pieces), meaning what she did to Veloso. As for Lavigne, Caetano's
wife, she only had to say, "Next time I'll bring a gun." "Great,"
said Winceski, "she will suck from my breast too. Eu estraçalho."
And she has already plans for future estraçalhamentos: "I
would love to meet President Fernando Henrique Cardoso. In order to estraçalhá-lo."
---
Not by the book?
According to the Câmara Brasileira de Livros (Brazilian Chamber
of Books), the organizers of São Paulo's recently concluded 14th
Biennial of Books, the latest book fair was the biggest, the best and the
most lucrative ever. That was expected. There were 811 stands and 3,000
new books launched, 76% more than two years ago. And 1.5 million visitors
bought 17.5 million books representing $84.2 million. But many publishers
interviewed revealed 30% to 40% lower sales when compared to the prior
book fair.
Weekly newsmagazine Veja citing only "reserved conversation"
with unnamed participating exhibitors, says that the Chamber fabricated
the upbeat numbers and mounted a farce since it wants to transform the
biennial event into an annual one. For the Chamber people, who charge up-front
fees and keep the income from all admission tickets sold, the fair will
always be a financial success.
---
Obituary
He carried a stick
He was the General-President who coined the phrase "distensão
lenta, gradual e segura" (slow, gradual and secure opening).
Having governed Brazil from March 15, 1974 to March 15, 1979 he used a
strong hand to fire those in the military who opposed relaxing the grip
dictatorship had on Brazil. Dead September 12 at the age of 88 from cardiac
arrest, Ernesto Geisel, who suffered from bone cancer, was honored with
an official eight-day mourning period by President Fernando Henrique Cardoso.
The Brazilian economic miracle was already a mirage when he took control
of the country. He was able to start the country's redemocratization, abolishing
the AI-5 (Institutional Act No. 5) which, among other powers, had complete
control of the media. At the same time he made sure his own political group
remained in power.
---
RIP
Frederico had a good chance to win the coming November elections
for Mayor of Pilar, a little town 30 miles from Maceió, the capital
of Alagoas state. But everybody knew that it would be very hard for him
to be alive for much longer to continue his campaign. He had received several
threats and had been the target of a murder attempt when, during a 50-car
triumphal parade promoted by his fans, Frederico's car was hit by a machine
gun volley. His enemies finally got the upper hand. Frederico was found
dead just before a scheduled appearance on Jô Soares Onze e Meia,
a very popular interview TV show. There is suspicion that he was poisoned.
The police, who are investigating the case, explained, "People were
angry and afraid that Frederico would damage Pilar's image on national
TV." But Frederico, who was only a peaceful white goat who had been
found in the streets by Petrúcio Maia, better known as Petrúcio
do Ferro Velho (Scrap Metal Petrúcio), was transformed into a symbol
of discontent with politics as usual.
---
Unseemly whorehouse
Times haven't been easy for Pedro Álvares Cabral, the
Portuguese navigator believed to have discovered Brazil in 1500. Revisionists
have cast a shadow over his importance in history, while festivities to
celebrate the 500th anniversary of his feat are being rushed on both sides
of the Atlantic. Now comes word from Portugal that the house where Cabral
lived the last 30 years of his life has been converted into a cheap brothel.
The rundown mansion, located in Santarém, 55 miles from Lisbon,
is leased by Maria José Ramos, 79, who sublocates the rooms
to prostitutes. The filles de joie trade their wares at Igreja da Graça
steps, the church where Cabral has been buried. The city of Santarém
wants to convert the place into the Center of Studies and Documentation
About Cabral and the Discoveries. They are still hopeful they will be able
to do this by April 22, 2000, the 500th birthday of Ilha de Vera Cruz (Island
of the True Cross), the land that one day would become Brazil.
---
Sugarcoating
Worried about the usually negative portrait about Brazil that the international
press has been serving the world, President Fernando Henrique Cardoso
has chosen diplomat Durval Carvalho de Barros, one of his personal
aides, to deal directly with foreign correspondents. Barros is going to
be using films, CD-ROMs, booklets and a lot of sweet talk in his attempt
to sell a positive image of Brazil. The 196 foreign journalists (16 in
Brasília, 56 in São Paulo and 124 in Rio), who usually complain
about lack of access to authorities, and lines being disconnected when
they are sending their material to their publications, will welcome the
move. BBC's correspondent and British journalist Robert Plummer doesn't
think the focus will change because, according to him, the press is already
doing a balanced job. "Brazilians are too paranoid about the image
other countries have of Brazil," he says, dismissing those who criticize
the foreign journalists for being too negative.
---
A piece of the jungle
Interested in buying a sample of Amazon Indian DNA? Coriell Cell, an
American genes company, is selling through the Internet and on scientific
congresses the genetic code from the Karitiana and Suruí Indians
who live in the state of Rondônia. The business has been done without
the authorization of Funai (Fundação Nacional do Índio
– National Foundation for the Indian), and Brazilian scientists have protested
against this commerce. Anthropologist and biologist Carlos Coimbra, from
Fundação Oswaldo Cruz (Fiocruz) denounced, "These are
needy Indian populations. They agree in participating in these researches
without knowing that a drop of their blood can make millions to a lab outside
Brazil." There isn't much that can be done. The sale of genetic material
for research is legal in the US.
---
Without bail
For 919 Brazilians living overseas, the main problem is not lack of
work or opportunity ,but lack of freedom itself. All of them are behind
bars throughout 36 different countries. Most of them are accused of drug
trafficking. Among the other charges: prostitution, rape, and theft. The
biggest contingent is in Paraguay (169), followed by Bolivia (81), Japan
(76), Italy (75), France (70), Portugal (68) and the United States (63).
According to the Foreign Ministry that released the list, there is one
Brazilian prisoner in these countries: Thailand, Israel, Hungary, Peru,
Mexico, Norway, Panama, Chile and South Africa. Greece, Ecuador, Surinam,
Czech Republic and Austria have two Brazilian jailbirds each. There are
three others in Australia and four in Colombia and Guyana. The roll is
completed with Argentina (53), Uruguay (51), Switzerland (42), French Guiana
(32), Spain (26), Venezuela (24), Canada (10), Germany (10), Holland (9),
Belgium (8), Denmark (7), Syria (6) and England (6).
---
The man pill
No, the World Health Organization (WHO) has not approved Nofertil, a
male contraceptive produced in the state of Pernambuco by Laboratório
Hebron. WHO is against the product because they showed it to be toxic in
animal experiments, and there is a 10% risk of sterility for those taking
it. Despite these reservations, however, the product should start to be
commercialized in Brazil starting next year. Nofertil is made from gossipol,
a substance extracted from the cotton seed. The pills inhibit the enzymes
responsible for the spermatozoids' maturation. In a similar front, a Cearense
(from Ceará) veterinarian has become the first Brazilian to get
a biological patent. José Ferreira Nunes, 51, from Embrapa (Empresa
Brasileira de Pesquisa Agropecuária – Brazilian Company for Agriculture
and Cattle Breeding Research) found out that sperm can survive three times
longer in green coconut water than in any other solution being used right
now for artificial insemination.
---
Words
Moving lingo
Bus surfing started some four years ago as a celebration after soccer
matches for teens at Parada Duque, a suburb in the greater São Paulo.
This crazy "sport" has two classes: free style and stuck feet.
In the first one — the most dangerous — the youngsters get to the top
of the bus and stand there without touching anything with their hands.
For the other style, the teens take the metallic signs that indicate the
bus direction and use them as reinforced boots. They leave a streak of
fire when skating behind the bus. The bus drivers wash their hands, alleging
threats and the danger of being hit by stones if they fail to comply with
the thrill seekers. Bus skating also has its own vocabulary.
Agarrar (to grasp) – to find a place where to fit the feet on
the bus's top
Bus, buso, busão – bus
carne boa (good meat) – girlfriend
colar (to glue) – to join the group
fazer fogo (make fire) – to skate behind a bus
latão (big tin can) – bus
gaiola (cage) – bus
renca – gang
rodar (to turn around) – to be caught by the police
sangue nos olhos (blood in the eyes) – a furious driver
---
Striptease
Unrobing with class
Malu, the stripper's stripper.


Paranaense
(from Paraná state) Malu Bailo has become a celebrity in
the night-club circuit due to the elaborate striptease shows she presents
all over Brazil. Famous and coveted in São Paulo where she is based,
Bailo knows what she does and has criticized Demi Moore's performance
in the movie Striptease. She also saw Paul Verhoeven's Showgirl
and hated the movie. For her "the style of American women is not
sensual". In her new show she has borrowed from several American celebrities.
She dresses as Audrey Hepburn, Rita Hayworth, Grace Kelly and Jacqueline
Kennedy Onassis, as well as Evita Perón and Brazilian 60s muse Leila
Dinis — just to take it all out till the last piece of clothing.